So I made a decision regarding which Christmas card to go with. Can you believe it is actually that hard to pick a design? I remember when you would just buy a box of cards at the store and that was it. Now it's a several day job (well for me anyways).
One thing that bugs me, is that people are so politically correct now, that even our Christmas cards are. Most cards now say Happy Holidays or anything except Merry Christmas. It reminds me of the South Park song that Mr. Garrison sings about Christmas, and no, I'm not going to post it. It's a little bit too vulgar for my blog.
So without further ado, here is the finished card from Shutterfly that I picked out. You'll notice that it's the same one I thought I was going to go with the other day. I wish I could send all my loyal readers a card this Christmas, but I don't know you people, lol, but I do wish you all a very merry Christmas this year and I look forward to your comments in the year 2011. So from my family to yours,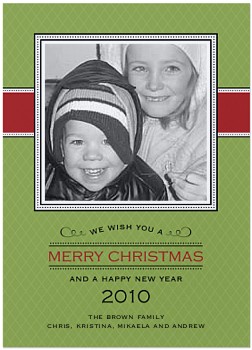 Retro Metro Christmas Card
*I received a $25 gift certificate from Shutterfly.com for using the embed widget to share my card.